104th General Council

Come to New Orleans
May 10 to 13, 2012
The 104th General Council in New Orleans will be just what you asked for. You will check into the luxurious Westin Hotel with sweeping views of the Mississippi River and the French Quarter. Thursday evening the opening cocktail reception will be in the elegant limsoll Club with an unmatched views of the River and the Aquarium of the Americas just below. Many of New Orleans' best and most famous restaurants are just a few steps from your hotel should you want to delve into the city's famous cuisine after the plentiful food and drink at the reception.
Friday will find the Warriors in the period quarters of the Historic New Orleans Collection for the first of their business sessions. The ladies will tour Longue Vue House and Gardens, one of the most elegant of the city's house museums, and then a tour of the beautiful Botanical Gardens in City Park.
The ladies will join the men at the end of their business session for a second line jazz parade through the French Quarter to Restaurant Antoine for a jazz lunch after a little mid-day refreshment.
There will be little rest on this busy day as buses will be available to take all participants for tours of the National World War II Museum followed by a special showing of Beyond All Boundaries, a superb film record of the greatest generation directed by Tom Hanks and Steven Spielberg. At the film's close we will enjoy cocktails, hors d'oeuvres and a special presentation of patriotic songs of the WWII period by the Victory Belles before you embark on your reservation at one of New Orleans' finest restaurants.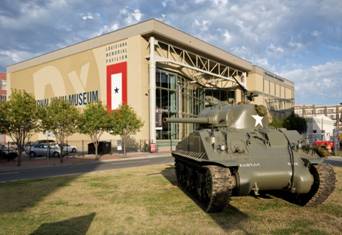 Saturday will find the Warriors in their closing business session and their ladies will go to the New Orleans Cooking School for a hands-on cooking class and luncheon featuring our famous Creole cuisine.
The gentlemen will retire to Dickie Brennan's Steakhouse for cocktails and lunch after which all can join together for an afternoon of activities to suit your mood. A stroll up Royal Street and a walk around Jackson Square offer not only the world famous antique and art galleries but a myriad of street activities including artists, music, mimes and fortune tellers.
High-end shopping is also available right below your hotel rooms in the Canal Place Shopping Center where Saks, Brooks Brothers and other fine stores may be found. Just steps away from the hotel other offerings include Harrah's Casino and the Aquarium of the Americas and its IMAX theater.
A quick nap may be in order to prepare for the Gala reception and dinner dance featuring the music of Jimmy Maxwell that all loved so well at the last Council sponsored by Louisiana in Ponte Vedra.
Church services on Sunday at Christ Church Cathedral will precede a Mother's Day Brunch at the Westin Hotel to give you time to get ready for the trip to St. Francisville.